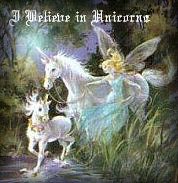 First off if you are here to read about Unicorns read on; but if you would like to get straight to the pictures just click on the Unicorn applet and he will take you there.
Are Unicorns real? Do you believe in them? Yes or no either way they are a wonderful mystical study in mythology. It is so much easier to explain what I see when I see a Unicorn.... love, purity, and innocense. A Unicorn expresses only the most positive and pure feelings and emotions contained in world.
It is believed in Greek mythology that the Unicorn was the gaurdian and holder of love, purity, and innocense with only the purest of mortals being able to see the Unicorn. This being because the Unicorn was safe from the darkness and all that lived within it. It was believed that the Fairies were in fear that the Lord of Darkness was shrouding over the world putting all that was good at risk. So they brought the Unicorn to hold all the good and protect it with their souls. For it is known that there must be a balance of good and evil for the world to survive. The Unicorn was to ensure that the balance of that good would be always maintained against the Darkness; therefor protecting the balance.
There are also some mythology stories of the Unicorn being hunted down for their horns- because the horn was believed to hold eternal life- giving it to anyone who may posess it. There was one touching story of a maiden that attracted a Unicorn drawn by her scent and feminity and then was killed as he lay his head on her lap. I have also heard through the mythology stories that to touch a Unicorn can put his soul at risk for impurity; One should only look with his eyes, love and admire this wonderous magical creature if he should ever happen upon one. The Unicorn applet above will take you to the Gallery of Unicorns. There are some beautiful pictures in the Gallery that I have found all over the net. I take no credit for any of the pictures and to my knowledge all of them are free for personal use; So just click the applet and away you go!! :)
THE LONESOME UNICORN


IN THE PALE MOONLIGHT
I SEE THE LONESOME UNICORN
BY THE STREAM SHE WAITS
WAITS FOR WHAT?
ANOTHER UNICORN TO PASS HER WAY
AN HOUR PASSES, STILL SHE WAITS
TWO HOURS PASS, STILL SHE WAITS
THERE IS NO ONE LEFT, NO ONE AT ALL
NO ONE TO ANSWER HER LONESOME CALL

Written By Julie


I found these beautiful words from a wonderful Unicorn
Site and the Owner gave me permission to Use it...
I felt they were words every Unicorn Lover should read...
Please do her justice and visit her site..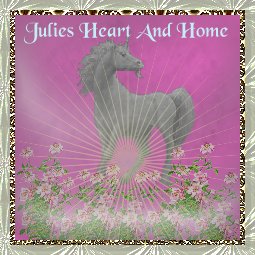 SEND A PEGASUS UNICORN E-CARD TO A FRIEND
The Unicorn Globe is a free gift for you to take and download to enjoy on your own page and possibly share with those who visit your site too!! :)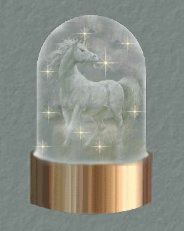 Hi! My name is Quinby!!Pegasus adopted me from The Unicorn Friendship Center; why don't you click on me and adopt one of my little friends!!


I recieved this beautiful globe from a friend and supporter in the fites.. Thanks Snow...isn't it just beautiful work!! Please go and visit Snow at Snowland...just click on the globe and the pegasus will take you there!!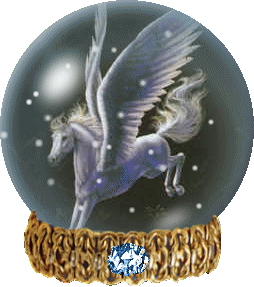 If you are looking for web graphics with unicorns or pegasus check out my mom's (Mystify)site. Just click on her logo below and it will take you there.


Please take a quick second to sign my guestbook
WEBRINGS I BELONG TO!!